Haig Whisky Agony Uncle – Can I drink this Old Dimple?
---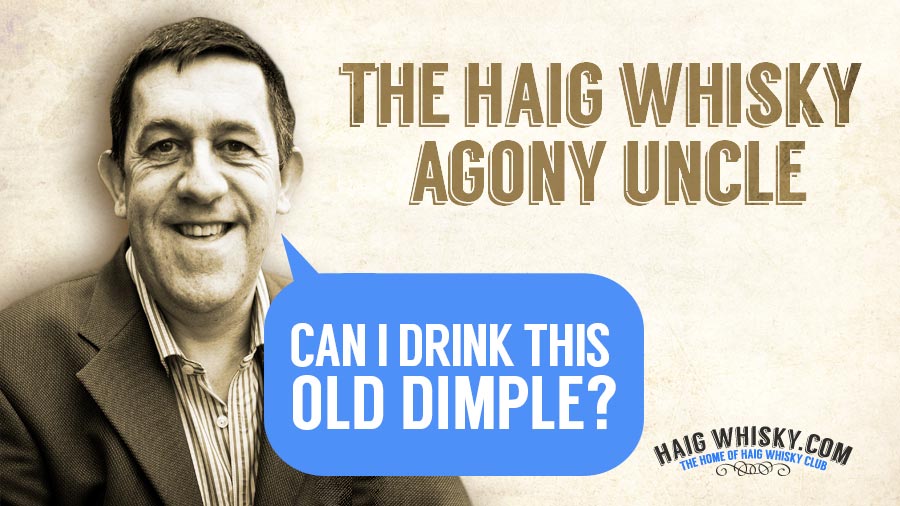 Here at HaigWhisky.com we regularly receive enquiries from all around the world about Haig Whisky and we try to get around to answering them all for you. You could say that Stuart is the Agony Uncle of the Haig Whisky world as he is answers all Haig whisky related questions. The latest request to our Haig Whisky Club Helpline is from Peter who has been left old bottles of Haig Dimple and Haig Pinch whisky.
Haig Whisky Agony Uncle – The Question
From: Peter J******
Subject: Advice on Dimple Whisky . It is approx 40 yrs old is it still palatable is it worth anything?
Message
I have inherited 2 bottles of Dimple Whisky they are about 40 years old, one has a wire covering and a label that reads Pinch by Haig and Haig, Old Blended Scotch Whisky. With a coat of arms in the middle front, the right side of label reads Pinch blended and bottled by Haig and Haig, Markinch, Scotland. This bottle has a label on the front below which reads "this Whisky is 12 years old". There is a label across the top of the neck and a cap which says Pinch and the Coat of arms.
The second bottle is again Dimple with a similar label showing Dimple old Blend Scotch Whisky, John Haig and Co Ltd, Markinch Scotland, with a different coat of arms this being by appointment to Her Majesty. On the front of the bottle is the label Dimple.
Would this whisky be still palatable as we are not whisky drinkers and do they have any value? Your assistance is most appreciated. Peter J******
Haig Whisky Agony Uncle – The Answer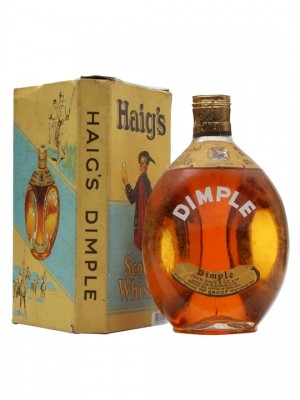 Hi Peter,
Many thanks for your email,
Without seeing a picture (but, please send one in if you can), it sounds as if you have a bottle of Haig Dimple which was mainly supplied to the UK market and the slightly stronger Haig Pinch which was similar but a bit stronger and supplied mainly to the US market.Haig Dimple and Pinch were both bottle as 12 Year Old and 15 Year Old Expressions.  As you can see from the links to these products on our own website, they may be worth from €200 to €300 depending on age. If as you reckon they are about 40 years old then I would go lower in my price estimation. The Coat of arms of the Queen dates it from after the start of the reign of Queen Elizabeth the 2nd who came to the throne in the 1950's and the 12 Year Old age statement would tend to veer towards them being bottled in the late 70's to early 80's. Values of private sales will generally be lower than prices on sites such as ours where the quality of product sold may be trusted.
As Scotch whisky does not age or mature any further once bottled (unlike wine) and as whisky bottles such as yours are easily available through whisky sites such as ours, I would say hold on to them.Your whisky  spent at least 12 years maturing and aging in bourbon barrels before being bottled. After being bottled, the aging and improving stops.
Are they safe to drink? Well if they are still sealed, they should be the same as the day they left the factory, but as I can't examine or test them in person that is your "common sense" call.
What I tend to do with a bottle such as this is to drink a dram or two on very special occasions. When the bottle is empty, I then have a very special memento in the empty bottle on the shelf as it brings back memories of enjoying a special whisky as well as happy memories of the event on which we drank the special whisky to celebrate.
Whisky left in a bottle is worthless to man!
Just my thoughts!
Kind regards,
Stuart
Haig Whisky Agony Uncle – Can I Drink this Old Dimple?
There you have it. Whisky once bottled and left in the unopened bottle should be as good as the day it left the factory, good to know! If you've any more questions for the Haig Whisky Agony Uncle you can contact Stuart and he'll get your question answered.
Until next time, sláinte!