How Old Is Your Haig Whisky? Expert Guide to Aging Haig Whisky
---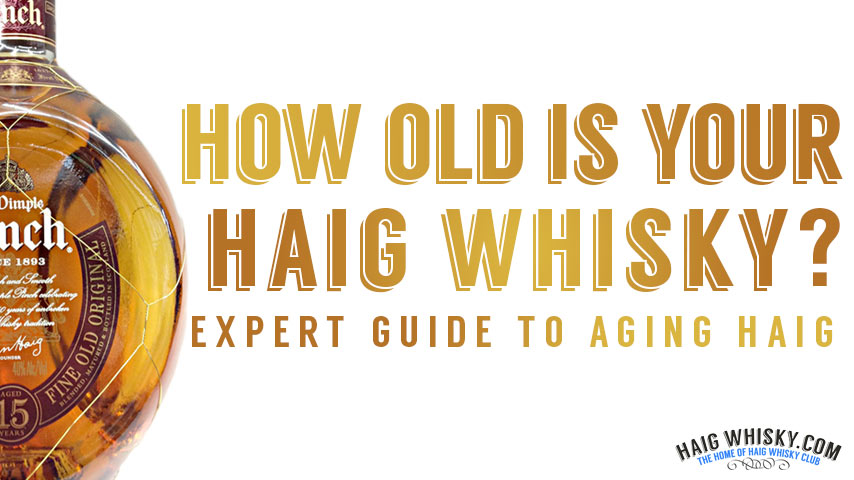 Much of the mail that I receive here at HaigWhisky.com is related to people from all over the world who have found or been bequeathed an old bottle of Haig Whisky and Haig Dimple and Haig Pinch in particular.
When you remember that up to about 40 years ago, Haig Whisky was one of the most popular Scotch whiskies in the world it goes some way to explaining why so many bottles of Haig were given as special presents or gifts for significant birthdays or family events. It was probably their sentimental value that prevented them from being opened and consumed. You must also remember that we now live in a consumer age where no one thinks twice about ordering a bottle or two of Scotch Whisky online or buying Scotch in your local store. But 40 to 100 years ago, a bottle of Scotch was a once a year purchase and quite unusual and special for the average family. This, I believe is why so many old bottles have still survived unopened.
As you may have noticed from my own blog articles, I'm a firm believer that whisky is there to be drunk rather than stored. My advice always is that if you find yourself in possession of a very special bottle of whisky drink it over a year or so on special occasions and then keep the empty bottle as a nice reminder of the original gift and story and also the special occasions when you drank really special whisky.
Is Old Haig Whisky Safe to Drink?
I'm afraid that I can't answer that as there are so many variables. Contrary to popular belief, Whisky (unlike wine) does not age in the bottle. Whisky bottles should be stored vertically in order to minimize loss of spirit through seepage or evaporation. Once the seal has been broken and the cork or cap opened, you never have as good a seal again. Part used bottles also have more of the whisky in contact with air which leads to increased evaporation and also oxidisation which will give the whisky a bitter or often metallic taste. Bottles of whisky stored unopened for more than 15 years do deteriorate in quality. Are they safe to drink? Probably yes, but they may not taste nice. The risk is yours. Also beware that whisky bottles left in old attics or cellars may have been subject to contamination by mice, rate  etc. which could pose a significant health hazard. As always, use your own common sense.
How Much is Your Bottle of Haig Whisky Worth?
This is the question I am most asked and 9 times out of 10, I'm afraid the results are disappointing. A bottle of 1940's Haig Dimple or Pinch with good provenance and with bottle, contents and packaging in good condition may fetch £200 in from a dealer. But! the dealer will only offer you £50 to £80. add in shipping costs and your time and …. Well, no one (usually) gets rich from old bottles of Haig Whisky.Empty bottles and pewter decanters will generally make from £10 to £50.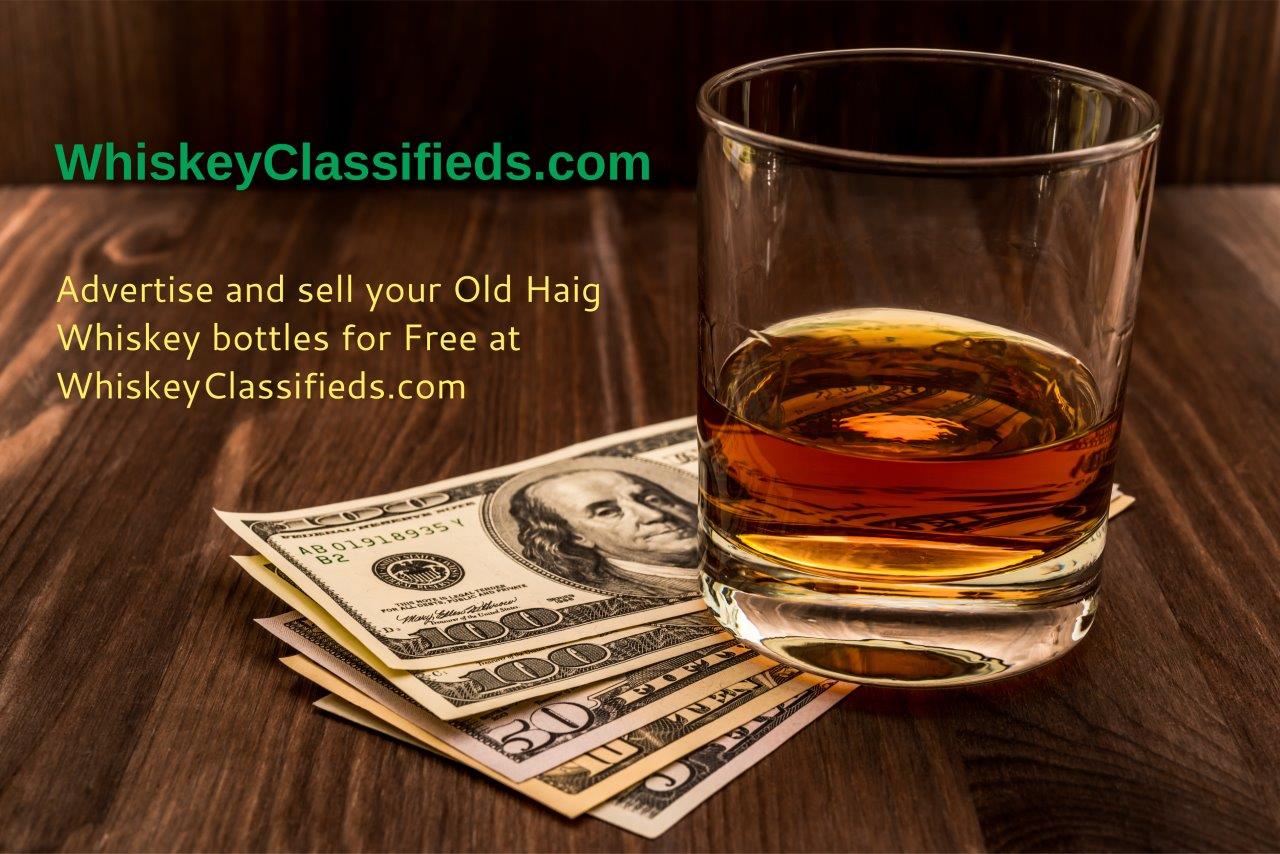 If you want to advertise, your old bottle of Haig Whiskey for sale, why not try my Whiskey Classifieds site at WhiskeyClassifieds.com
How Old is Your Bottle of Haig Whisky?
Having said all that, I've decided to spend some time developing a simple user guide to working out how old your old bottle of Haig Whisky might be. I'll edit and refine this article over the next few months and would also welcome feedback from other Scotch and Haig experts using the comments feature below. You can also check out the infographic below to get an idea of how old your Haig whisky bottle is. Here goes!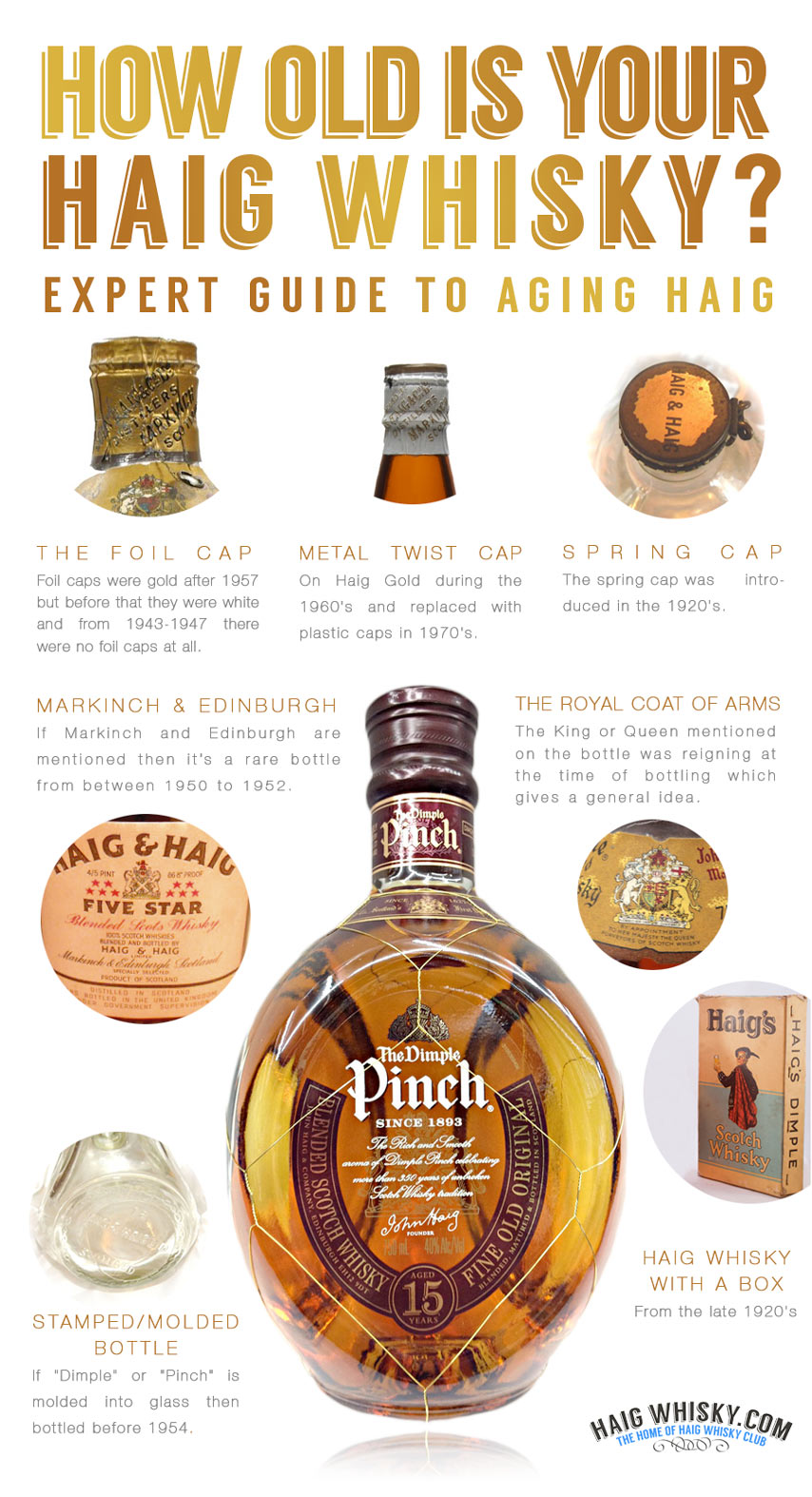 What Kind of Haig Whisky have you got?
Generally speaking there are three types of Haig Whisky. Haig Gold Blended Whisky is in a normal shaped bottle whereas Haig Dimple and it's American Market sister Haig Pinch are in the three sided bottles with dimples or dents in each of the three faces.
Guide to Aging Haig
Below you'll see some of the elements of different Haig bottles that can be used to help give a better idea of the age of your Haig bottle. This guide to aging Haig Whisky isn't definitive but should serve as a good starting point for you and will be added to in time.
The Royal Coat of Arms – All bottles of Haig will carry a representation of the British Royal Family Coat of Arms and will mention the King or Queen reigning at time of bottling. This will give you a general idea of the age.
The Foil Cap – Foil Caps were in Gold after 1957. Before then they were generally in white but also occasionally in black, brown, silver and gold. Bottles from 1943 to 1946 had no foil caps because all aluminium was required for the war effort and even after the war, the new foil caps were shorter than before.
Metal Twist caps – Metal Twist Caps were introduced to Haig Gold bottles in the 1960's and were replaced with plastic caps in the 1970's.
Spring Cap – The famous spring cap associated with Haig Dimple (first made in 1897) was introduced in the 1920's.
Stamped/Molded Bottle – If the bottle has "Dimple" or "Pinch" stamped or molded into the glass of the bottle than it was bottled before 1954.
If the label has both Edinburgh and Markinch mentioned then you may have an unusual bottle! Haig Whisky became a Limited company in 1894 with registered offices in Edinburgh. With expansion of the Markinch production facility after World War 2, the registered offices were moved there in 1952 and thereafter, bottles carried just Markinch on the label. Haig Whisky bottled during the transition period during the build of the new HQ between 1950 and late 1952 carried both place names.
And finally, if you bottle comes with a box, it probably dates from after the late 1920 as prior to this Haig Whisky bottles were shipped in straw packed wooden boxes.
How Old Is Your Haig Whisky? Expert Guide to Aging Haig
Hopefully, that's enough to keep you all going and give you a better idea of the age of your bottle of Haig! I'll add more info to this blog article as I think of it so it becomes a one stop shop for the question "How old is my old bottle of Haig Dimple Pinch!"
Nine out of ten inquiries received here about age, value and safety can actually be answered from the information above!!

Buy some modern but still quite rare and difficult to source Haig Dimple Whisky from Amazon UK

[amazon_link asins='B00NLM5AMC,B014PF6BDU,B0045CI4X4,B07946ZHFW,B001P4YYOI' template='ProductCarousel' store='whisbook-21′ marketplace='UK' link_id='e79e369f-99a1-11e8-83d5-9384fb56b12a']
Save
Save
Save
Save